If you're looking for a reliable waste management company in kampala to help you handle your trash, here's our list of some of the best available waste management companies in Kampala/Uganda.
We recommend you try out the yo-waste mobile app. Yo-Waste mobile app is a location based mobile application that connects households & businesses to the nearest local waste collectors in their communities and is reliable, affordable & convenient. Look at it like an uber for garbage collection services in kampala.
The Yo-Waste customer mobile app allows individual households & small businesses to manage waste collection services from a handy smartphone. Request for on-demand services, regular collections, extra pickups,rate collections, view invoices of all previous collections all in one place. 
Here's our list of waste management companies in kampala
1. Asante Waste Management Kampala
Operating in areas of Bugolobi, Luzira, Munyonyo, Entebbe and many others, you can use Asante to help you manage your domestic waste, medical or hazardous waste in Kampala.
2. Globe clean Waste Management
Globe clean waste management collects domestic waste in areas of Ntinda, Naguru & Kisaasi. The company will help you keep clean at all times with their superb quality services.
3. De-Waste Waste Management
De-Waste Waste management specializes in hazardous waste around Kampala, Entebbe & Mukono. The company also provides domestic waste collection services in areas of Luzira, Bugolobi and others.
4. KAD Agency
KAD Agency Waste Management will help you dispose of your waste while providing the best quality service to your home or business. The waste management company operates in kawempe division.
5. Homeklin
Homeklin Waste Management company collects household waste home to home from people living in the Makindye division. The company will help collect your trash around Makindye in time.
6. Deers Mart (Abakaasasiro)
The Waste Management company operates in areas of Kikaya, Ntinda and kisaasi & collects households refuse home to home. The company has a 5 star rating from customers using it on the yo-waste app.
7. Bin it Services Uganda
BinIT Waste Management company operates in Kampala and collects both domestic refuse and hazardous waste. The company provides an excellent waste management service in kampala and will help you get rid of rubbish from wherever you're.
8. Nabugabo updeal ventures
The waste management company is very popular in areas of Kampala city metropolitan (city center) and as well areas of Rubaga division. Nabugabo updeal ventures collects household refuse from homes and businesses within the central business area of Kampala city.
9. Kampala solid waste consortium
The consortium has other tens of waste management companies operating under its name and these companies operate in Nakawa and Kawempe. Such companies include Bins Abakasasiro, union of private waste collectors and many others.
10. Hilltop Waste Management
Hilltop waste management company operates in areas of Kawempe division. The company collects household & business refuse from the areas it operates in kampala.
Check your Yo-Waste mobile app for the availability of any of those companies in your location. Or You can check locations we operate to see if yo-waste is in your community.
In 2019, more and more retail businesses have taken it upon themselves to do their bit for the environment by implementing zero-waste policies.

In particular, the zero-waste movement has experienced a surge within the retail sector. Specialist zero-waste and packaging-free grocery stores are popping up across the world, and numerous major retailers have now made zero-waste a cornerstone of their environmental policies. 
What Does "Going Zero-Waste" Mean?
Zero-waste stores are designed to uphold the principles of the zero-waste movement. This boils down to eliminating as much waste as possible by either reducing the amount produced or by changing how waste is managed. In doing this, you prevent waste from ending up in environmentally-devastating landfills, incinerators or the ocean.
How Do Zero-Waste Stores Work?
Some typical characteristics of zero-waste grocery stores include:
– The store is packaging-free so customers must bring their own containers. 
– Customers fill containers with their desired quantity from bulk-style bins and dispensers.
– All products are sourced locally and are produced in an environmentally friendly way. 
The Business Benefits of Going Green
Studies indicate that there are many business benefits associated with going zero-waste. Firstly, it will add promotional value to your store and could be an effective way to market to new, environmentally-conscious customers. Additionally, it could boost retention rates as research shows that customers are more likely to remain loyal to brands that support sustainable and ethical policies. Finally, it could increase your average transaction amounts as many consumers are happy to pay extra for products that are kinder to the planet.
Discover More About the Zero-Waste Retail Revolution
To learn more, check out this infographic which comes courtesy of the team at The Cleaning Services Group. This guide offers a handy explainer of how "zero-waste" stores promote a more sustainable approach to grocery shopping. It also outlines why going green makes great business sense and lays out some handy advice to help retailers get started on their own zero-waste journey.
Scroll down to the infographic below to discover more

Have you recently moved to Kisaasi, Ntinda, Naguru or Bukoto or perhaps lived in this part of Kampala and you are still finding it hard to get a waste collection service provider for your home? Finding a reliable waste collection service provider in these parts of Kampala can sometimes seem to be a pain in the ass, but lucky for you, yo-waste is the solution.

Yo-waste is a location-based mobile application that allows households and businesses in Kampala to request and schedule for waste collection services conveniently using their smartphone and we shall connect you to a reliable and affordable waste collection service provider in your community.

Yo-Waste has a network of licensed waste collection companies on their mobile app that we recommend to you to get started with your monthly or on-demand pickups. Yo-Waste works like your uber or safeboda but this time for waste.

Here are some services you'll find on the yo-waste mobile app.

Subscriptions

Subscribe to a package to one of our professional waste collection companies. Usually, packages are once a week for a month, twice a week for a month, thrice a week for a month and many others.

Extra pickups

Request for an extra trash pickup anytime through your yo-waste mobile app.

On Demand pickups

Request for on-demand pickups on any given day and be serviced within 24 hours.

Special collections

Had a party overnight, or have trash that requires bulky collection, request a special collection through yo-waste mobile app.

How to get started.

Download the yo-waste mobile app below.


Statistics have shown that in Kampala alone, the per capita generation of garbage is 1kg of waste per day. With a total population of about 1.5 million people every day in Kampala, it's estimated that we generate 1500 tonnes of solid waste daily and the city authority estimates the daily tonnage to increase to about 60 000 in the coming few years, KCCA can only manage to collect 40–50% of this because they lack enough garbage collection trucks.
Because of this, the city authority decided to contract private waste haulers that can help them maximize waste collection in the city. This was a good move in increasing the percentage of waste collected from people's homes.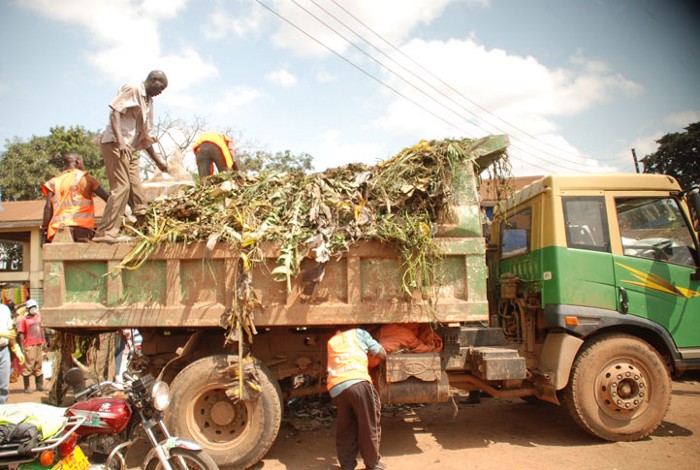 However, according to UBO statistics, there are over 418k homes in Kampala, in the urban areas of Kampala, a lot of people spend much of their time at workplaces and more time at home on weekends.
The challenge with the current garbage collection system to people who spend most of their time at work is they miss collections because they're hardly available at their homes when these collectors pass by, or on the other hand when they're home, the garbage collectors are never seen.
What is also true about the current garbage collection system in Kampala, at some point is a lot of homes are seen complaining of missed collection days yet trucks are seen passing by their homes daily.
A lot of garbage collection companies in Kampala are all competing to sign up businesses and buildings and are scared to sign up homes as their customers because the organization of this market is way still disorganized.
A garbage collection company can ably decide to send a truck to pick up trash from a business or building in Makindye than it would decide if it was one person, which is totally understandable. The private waste haulers are interested in quantities, send a truck to Kawempe and let it come back full.
The biggest problems of waste collection in Kampala are stemming from the lack of organization of homes and garbage collection companies. So how do we solve this, how do we ensure we have enough capacity to service the entire city with the fewer trucks we got, how do we monitor and rate services provided by these private waste haulers among other questions.
The whole idea of why we started working on Yo-Waste was to help address some of these problems. We believe technology can do better solving some of these problems the way it has been in other industries.
In industries like Transportation, we have seen players like safeboda transform the boda-boda sector, uber transform the car transportation sector among others.
Organizing the market in several industries is crucial especially when the service being carried out hasn't been that effective. At Yo-Waste, we want to transform the waste management industry to that point that people appreciate the work carried out by garbage collectors (AKA aba kasasiro) in our community.
In my next post, I'll explain how we are building an efficient garbage collection system in Kampala and how we plan to have a garbage collection truck on every route everywhere in Kampala all this using our technology.
The writer is the Co-Founder of Yo-Waste. This post first appeared under his medium account.