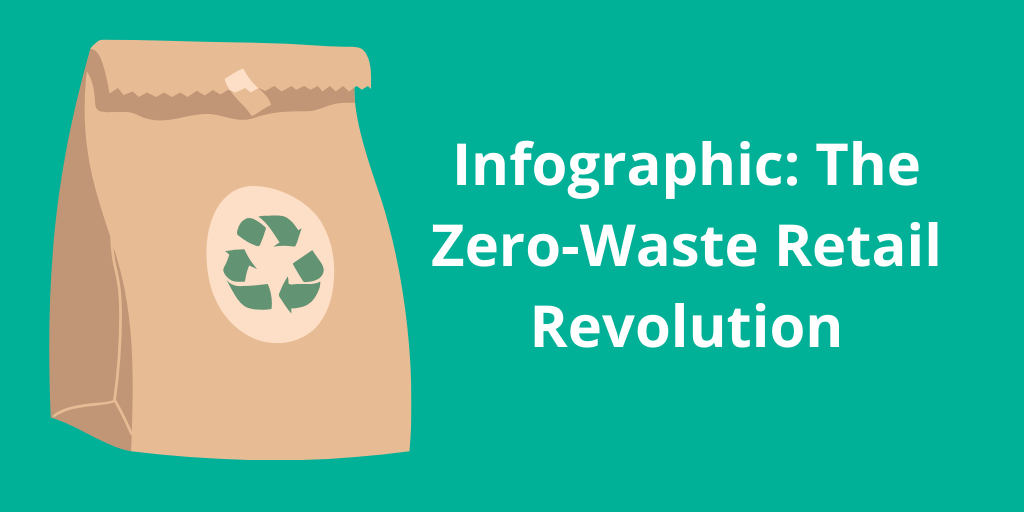 Infographic: The Zero-Waste Retail Revolution
In 2019, more and more retail businesses have taken it upon themselves to do their bit for the environment by implementing zero-waste policies.

In particular, the zero-waste movement has experienced a surge within the retail sector. Specialist zero-waste and packaging-free grocery stores are popping up across the world, and numerous major retailers have now made zero-waste a cornerstone of their environmental policies. 
What Does "Going Zero-Waste" Mean?
Zero-waste stores are designed to uphold the principles of the zero-waste movement. This boils down to eliminating as much waste as possible by either reducing the amount produced or by changing how waste is managed. In doing this, you prevent waste from ending up in environmentally-devastating landfills, incinerators or the ocean.
How Do Zero-Waste Stores Work?
Some typical characteristics of zero-waste grocery stores include:
– The store is packaging-free so customers must bring their own containers. 
– Customers fill containers with their desired quantity from bulk-style bins and dispensers.
– All products are sourced locally and are produced in an environmentally friendly way. 
The Business Benefits of Going Green
Studies indicate that there are many business benefits associated with going zero-waste. Firstly, it will add promotional value to your store and could be an effective way to market to new, environmentally-conscious customers. Additionally, it could boost retention rates as research shows that customers are more likely to remain loyal to brands that support sustainable and ethical policies. Finally, it could increase your average transaction amounts as many consumers are happy to pay extra for products that are kinder to the planet.
Discover More About the Zero-Waste Retail Revolution
To learn more, check out this infographic which comes courtesy of the team at The Cleaning Services Group. This guide offers a handy explainer of how "zero-waste" stores promote a more sustainable approach to grocery shopping. It also outlines why going green makes great business sense and lays out some handy advice to help retailers get started on their own zero-waste journey.
Scroll down to the infographic below to discover more