Statistics have shown that in Kampala alone, the per capita generation of garbage is 1kg of waste per day. With a total population of about 1.5 million people every day in Kampala, it's estimated that we generate 1500 tonnes of solid waste daily and the city authority estimates the daily tonnage to increase to about 60 000 in the coming few years, KCCA can only manage to collect 40–50% of this because they lack enough garbage collection trucks.
Because of this, the city authority decided to contract private waste haulers that can help them maximize waste collection in the city. This was a good move in increasing the percentage of waste collected from people's homes.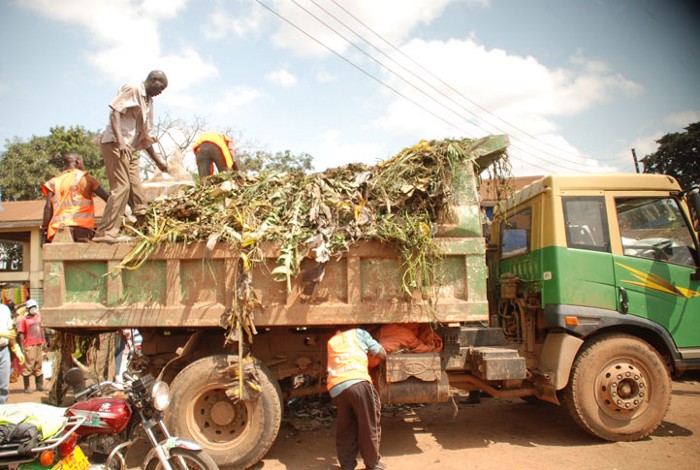 However, according to UBO statistics, there are over 418k homes in Kampala, in the urban areas of Kampala, a lot of people spend much of their time at workplaces and more time at home on weekends.
The challenge with the current garbage collection system to people who spend most of their time at work is they miss collections because they're hardly available at their homes when these collectors pass by, or on the other hand when they're home, the garbage collectors are never seen.
What is also true about the current garbage collection system in Kampala, at some point is a lot of homes are seen complaining of missed collection days yet trucks are seen passing by their homes daily.
A lot of garbage collection companies in Kampala are all competing to sign up businesses and buildings and are scared to sign up homes as their customers because the organization of this market is way still disorganized.
A garbage collection company can ably decide to send a truck to pick up trash from a business or building in Makindye than it would decide if it was one person, which is totally understandable. The private waste haulers are interested in quantities, send a truck to Kawempe and let it come back full.
The biggest problems of waste collection in Kampala are stemming from the lack of organization of homes and garbage collection companies. So how do we solve this, how do we ensure we have enough capacity to service the entire city with the fewer trucks we got, how do we monitor and rate services provided by these private waste haulers among other questions.
The whole idea of why we started working on Yo-Waste was to help address some of these problems. We believe technology can do better solving some of these problems the way it has been in other industries.
In industries like Transportation, we have seen players like safeboda transform the boda-boda sector, uber transform the car transportation sector among others.
Organizing the market in several industries is crucial especially when the service being carried out hasn't been that effective. At Yo-Waste, we want to transform the waste management industry to that point that people appreciate the work carried out by garbage collectors (AKA aba kasasiro) in our community.
In my next post, I'll explain how we are building an efficient garbage collection system in Kampala and how we plan to have a garbage collection truck on every route everywhere in Kampala all this using our technology.
The writer is the Co-Founder of Yo-Waste. This post first appeared under his medium account.
If you're working on a zero-waste goal, you probably must have heard of a term waste audit or trash audit. In order to reduce the waste you generate, you need to know your trash.
We use the waste audit at Yo-Waste to help our customers divert a lot of waste and save money on waste collection.
The process of carrying out a trash audit is too simple than most people think, they're four steps you can use to reduce the waste you generate.
So let's see how exactly you can carry out a trash audit for your small business or home.
Step 1: Know your trash
The first thing is to know your trash. To do this, pour down all the trash in your trash bins and note down all items on cardboard or some piece of paper. You can use tallying for trash that keeps reappearing on your list.
Step 2: Organize the list by frequency of the tally
Now you can organize your list depending on the frequency of the items.
From the list, you will see how you can possibly reduce some of the waste you generate. It's better you do this for at least a week. The idea is to help you know what kind of trash you generate the most and how you can possibly reduce this waste.
It's hard to go zero waste on the first day or week or even a year, but if you always know what type of trash you generate, it's easy to come up with swaps that can help you reduce on the trash generated.
Step 3: Think of making some changes
At this stage, you can think of how to swap some of those items with reusable ones. I recommend starting with the items that appear the most because of two reasons:
You'll make the biggest impact.
The impact will be immediate and noticeable, most people like this.
This is how the trash audit could help me reduce my waste.
Bottle: The first thing I would do to reduce the many water bottles I generate every day is buying one plastic bottle which is flexible and reusable. This won't only save me on plastic waste but also cut my costs of buying water.


Packaging paper: I would also buy one mid-sized shopping basket that I will use when shopping for anything at the grocery, this won't only save me of a paper bag waste but also reduce on polythene waste which is also very dangerous.
You can do this for all items and realize ways on how to reduce the waste you generate, this approach will help you a lot in achieving your zero waste goals.
Step 4: Continuously Repeat
This doesn't mean you'll achieve the zero waste goal that easily because on several weeks you generate different trash. The best option is to continuously carry out the waste audit perhaps on a weekly level and devise means on how you can swap some items on your audit list for reusable items.
If you can do this for the next one year, chances are high that in at least 3 months you could have achieved amazing progress in achieving your zero waste goal. Just to help you know, it's nearly impossible to achieve a zero waste goal, but if you can reduce the quantity of waste which could be avoided, well and good.
About the Writer.
The writer is a Co-Founder of Yo-Waste LTD, Yo-Waste LTD provides waste, recycling and smart solutions for businesses and governments. Part of what we do is connecting local waste haulers and recycling businesses to customers that need their services.
Our startup is on the move to creating a circular economy in Uganda were at least 90% waste generated by small businesses is diverted.
Just imagine if we could divert all waste generated by that coffee shop in your neighborhood or maybe the waste generated by your restaurant, hotel, or grocery, this will help us achieve zero waste goals for our cities and communities.
For small business owners, Yo-Waste Connect app will help you get real-time updates of when your trash was collected, rate the driver who serviced your business and automates all your waste collection payments online.
We want to help you create businesses that become sustainable, save money on waste collection and divert more waste.
Waste collection is one essential expenditure for businesses. We understand that you want to keep your workplace clean and free from waste.


Yo-waste allows businesses to manage all their waste expenses & collections in one place. With Yo-Waste you can schedule and request for garbage collection services, setup recurring payments and much more using your free Yo-Waste Connect App.


For a business to start using our service, you can email us at [email protected]. The Yo-waste team will then set out an appointment to come and inspect your business and do some waste analysis to see how we can help you save on waste collection costs and recycle some of your wastes.


After agreeing on a cost, which is usually 20% of the previous amount you where spending on waste collection, we shall sign a contract and begin using our service.


We're excited to help you get started keeping your business sustainable while using our services.

We're very privileged to have been shortlisted among the 100 startups to pitch for government funding under the National ICT Support Program.
Yo-Waste is a location based on demand garbage collection service app that seeks to disrupt the waste management industry across Africa.
Our innovation does more than just an effective garbage collection service system, we seek to make the waste management experience more effective than before through our 5 major objectives below.
1. To work with customers and recycling firms to divert wastes from landfills
2. To develop new & innovative technologies focussed on waste management & recycling in Africa
3. To disrupt the waste management industry in Africa
4. To connect haulers & recyclers with businesses & households to reduce unnecessary waste transportation costs and save both environmental & economic resources.
5. To help haulers & recyclers get more clients and earn extra income